Captain & Crew services
We offer a comprehensive services across the board, including those ensuring your safety, potential emergency needs, operational management, technical support and more upon request. We prefer  not to generalize with these contents and, instead, offer a crew-service service package tailored to fit your precise needs and preferences.
Crew Recruitment & Training
We understand that a yacht crew is essential for your safe, smooth and comfortable journey or moored onboard activities. Our custom-made training program, led by experienced marine and hospitality professionals, ensures that each crew we provide is able to bring the highest level of service to our clients and their guests.
Berthing & Mooring
With one of the most qualified and well-connected management teams in the industry, we are confident to source you the right berth even in Hong Kong, which is well known for its full marinas. It is our promise that we guarantee a mooring in Aberdeen for every client of Asia Yachting.
Maintenance
We undertake all warranty service requirements for our clients' boats and act as an agent when liaising with manufacturers, to ensure delivering you international services standards through the most efficient and convenient means.
Insurance and finance management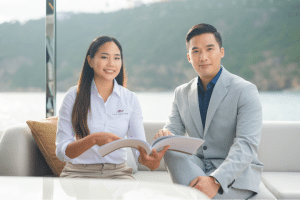 While we constantly search for the best solutions for yacht owners' needs, we also help prepare for worst-case scenarios. Aligning with industry-leading marine and yacht insurers, after researching the most appropriate possibilities, we then recommend you the best selection yachting insurance – and financing – that best suit your specific needs.
Our professional accounting team prepares an accurate, detailed monthly costs summary to keep you clearly informed of the breakdown.