Around Phuket by Yacht – Asia Yachting Recommended Routes
Thailand's boating hub, the southern island of Phuket – reachable by air or road (via a link to the Thai mainland by bridge) – offers plenty of choice for motoryacht or sailing-boat excursions. Asia Yachting, which has operations in Boat Lagoon Marina in Phuket, suggests a few itineraries below, from a full day exploring to one-night and two-night options in waters a little further from your starting point. While each itinerary would be accessible from all parts of Phuket, our suggestions assume a departure from Boat Lagoon Marina, or one of the nearby marinas – all in the east of the island – aboard a motoryacht.
With an expanse of dramatic scenery very closeby to the northeast of the Andaman Sea with the scores of islands around Phang Nga Bay – Koh Phi Phi, Koh Yao Noi and Koh Racha Yai being the best known – a cruise around some of this pristine picture-postcard seascape is a must.
1 Full day
A destination for a pleasant few hours: About 18 nautical miles away, Koh Yao Noi is within a leisurely hour or so's ride. The narrow white sand-beach fringed, palm-tree-strewn isle can be reached faster with more throttle but our suggestion is to enjoy breakfast on board while taking in the panorama of its surrounding archipelago of islands, some with taller karst limestone centres in colours that range from grey to rusty orange-brown.
Accessible beaches are dotted around the island's perimeter, several offering privacy.
Good snorkelling is to be had off the north of the island's Laem Had Beach, where a few restaurants could serve as your lunch option. Kayaks can be hired for those fancy a paddle and do not have such options aboard their yacht.
A final flourish: Finish your days' exploration with a sunset dinner at one of the few floating restaurants off the nearest island east of Phuket, Koh Maphrao – whose name translates as "Coconut Island". Popular with domestic Thai holidaymakers, and increasingly so with overseas visitors. Wide wooden decking forms stable rafts, upon which the day's catch – sometimes displayed live or chilled – is served at tables under open-sided pavilion roofing to diners' preferred styles. Or enjoy the private atmosphere of dinner on an unpopulated beach on the west or south of Coconut Island or moored off one of these beaches on the deck of your yacht.
From these spots, your eastern Phuket final destination is a 10 to 15-minute cruise away.
2 Days (1 night)
Further afield: A one-nighter onboard allows the visitor to head for the most visually rich cruising grounds of that lie further east of Phuket. On the other side of the two islands of Koh Yao Noi and Koh Yao Yai are some of this part of southern Thailand's most stunning island scenery, and good underwater vistas for scuba divers and snorkellers. Just west of Krabi town is the luscious bay of Railay Beach, at the foot of a 100 metre-plus monumental karst limestone sheer cliff.
This is a 25 nautical-mile trip, taking two hours at comfortable speed so arrange for breakfast onboard as you cruise there. Allow longer to arrive if anchoring on the way for water sports or snorkelling if equipment is to hand.
Two small bays around the base of the cliff-faced monolith, through coastal and jungle paths, is the entrance to Princess Cave – full of stalactites and stalagmites, well maintained and home to bats and swallows, this is worth a visit. If time allows, a couple of hours can easily be spent walking around this headland's cluster of small beautiful beaches, now home to cafes and restaurants that include some five-star boutique resorts. Rock climbers, kayakers may be tempted to stay longer (waters are usually calm and a lagoon or two are reachable from Railay Beach).
If only staying in this vicinity for two to three hours, you may have time to visit "James Bond Island" – Khao Phing Kan – some further 25 nautical miles away and anchor off it to eat dinner and sleep onboard, then seeing local sights in the morning before heading southwest back to Phuket.
Alternatively, if spending longer in the Railay Beach area, finish your two days' exploration with a sunset dinner very close to your final drop-off in eastern Phuket, off "Coconut Island" – see the last section of the above one-day itinerary ("A final flourish").
3 Days (2 nights)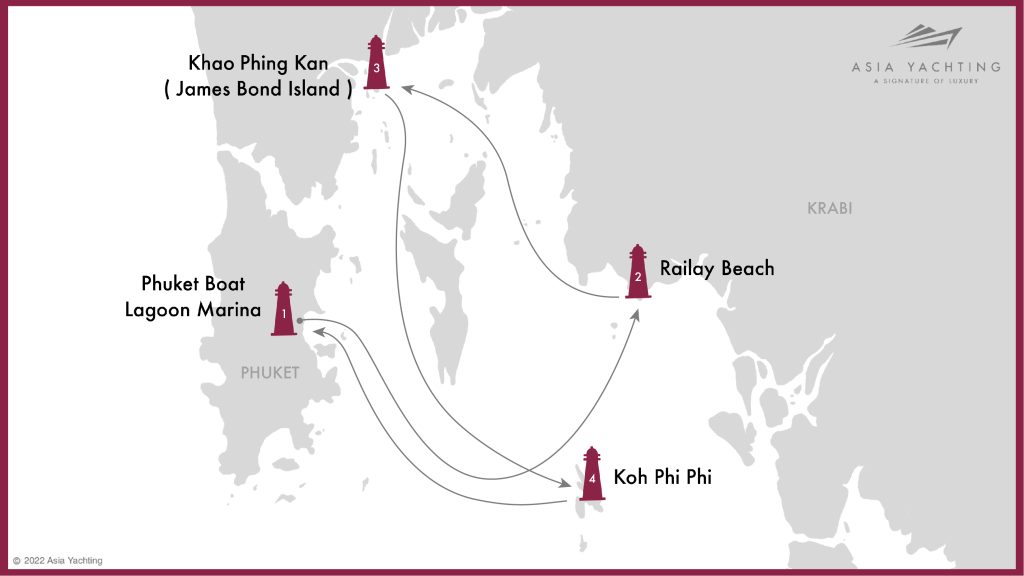 With two nights and three days, we suggest you slow down the itinerary of the two-day trip above.
So spend time visiting the beaches around Krabi (perhaps renting kayaks or paddle boards of not onboard your yacht, caves, restaurants – and possibly book yourself a spa treatment at one of the resorts in the Railay Beach and Ao Nang Beach vicinity, mooring off shore for your first night's sleep.
Then head for "James Bond Island" – Khao Phing Kan on day 2, and then cruise to Koh Phi Phi for an onshore visit of a few hours to brows its art galleries, boutiques and get lunch there. While away some beach time and café / bar time on Phi Phi, a smaller, slightly more bohemian alternative to Phuket.
Then finish your three days' exploration with a sunset dinner very close to your final drop-off in eastern Phuket – see the last section of the above one-day itinerary ("A final flourish").
If you have any enquiry on our yachting recommendations or any yachts related issues, our yacht broker, Nadezhda, in Phuket office will be more than glad to help you, please contact her: